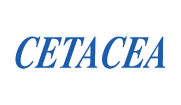 Cetacea (Si-tay-sha)

The order of fishlike marine mammals such as dolphins, porpoises and whales. From Latin Cetus and Greek Ketos. The company that manufacturers superior Pet Products, Diving Accessories, Outdoor Gear, Bike, EMS, Fire Rescue, Industrial, Marine, Photo, Snow Sports, Travel, Surf, Climbing, and Tech Accessories.

CETACEA® has been making high quality accessories for SCUBA divers since 1988. We have taken our experience in the Dive Industry and applied the same high standards to making gear and accessories for all walks of life. No matter if you are looking for the best Dog Leash, a tether for your Camera, or equipment to secure your Fire Rescue equipment you can bet that Cetacea Quality will be superior to all the others.

CETACEA® Accessories improve the performance and function of just about every piece of gear or equipment you can think of.
Look for the CETACEA® Label: Divers, Pet Owners, Fireman, and all others ask for our product by name. Customers around the world know our attention to detail and unwavering quality. Our lifetime guarantee shows how confident we are in the products that we offer our customers. Our selection shows our eagerness to respond to our customer needs. As we move into a new millennium, we will continue to bring innovative products and accessories.